See on Scoop.it – 1999 Tokaimura_nuclear_accident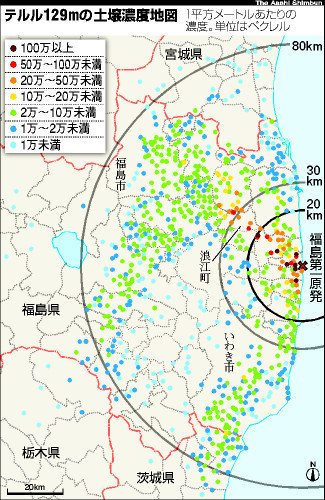 On October 31st, the Ministry of Education released new contamination maps showing the spread of radioactive Tellurium and Silver after the Fukushima Daiichi Nuclear Disaster.
Large contamination areas accumulated within the 30 km zone, and 2,200 locations within 100 kilometers of Fukushima Daiichi were tested.
Of the 2,200 tested samples, 350 were found contaminated with Silver and over 800 were found contaminated with Tellurium.
The highest concentrations of Tellurium was found near Okuma, at nearly 2,660,000 bq/m3.
Radioactive Silver was found at 83,000 bq near Futaba. Both concentrations are a caution area. The area is often found contaminated with accumulated Iodine 131, and some think the clouds could have carried the contamination.
Sankei MSN reports say that the concentrations of Tellurium and Silver are very small amounts compared to the soil concentrations of radioactive cesium, but no actual amount is listed. Tellurium and cesium are diffused in gaseous form, the Tellurium levels extend to the south coastal areas, and also spread with the cesium contamination northwest of the plant.
http://sankei.jp.msn.com/affairs/news/111101/dst11110107140001-n1.htm
NHK News reports that the Tellurium found is about 0.03% the amount of Cs-137 levels in the same area, and Silver remained less than 1% to 16% of the Cs-137 contamination.
http://www3.nhk.or.jp/news/html/20111101/t10013642361000.html
The silver showed a different distribution path, the ministry will have to verify how silver was found so far away in such concentrations.
Tellurium and silver concentrations in soils are mapped and can be found at the information ministry radiation webpage (http://radioactivity.mext.go.jp/ja/)
See on www.asahi.com